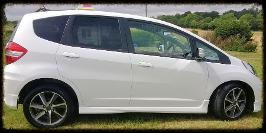 The New Test-
As from the 4th December 2017 the driving test has changed.
Although similar to the old test there are some significant changes -
For the Independent driving component of the test some pupils will now be invited to follow Sat Nav Directions
although alternatively roughly 1 in 5 candidates will be requested to follow signs, this will be for
around 20 minutes in duration replacing the 10 minutes of independent driving as in the old test.

Some manoeuvres are being replaced such as the "Turn in the Road" and the "Reverse around a Corner",
( but Instructors may still teach pupils these skills so that they can turn a car around in the opposite direction in the road safely.)
The old "Reverse into a bay" at the test centre has been updated and candidates may
now be asked to reverse into a car parking bay from a left or right direction
or drive forward into a car parking bay from the left or right direction

The "Pull up on the right hand side of the road and reverse" has been introduced

The "Reverse Parallel Park" has been retained as a possible manoeuvre option
a candidate will be asked to perform one of the above.
You may in 1 in 3 tests, be asked in addition to the above to perform an emergency (Controlled) stop
Please see below the DVSA videos explaining the new changes