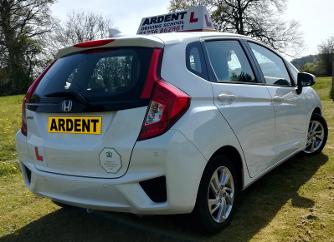 To Book a lesson
call us on :
07526 051 186
Check Out Our Latest Offers
1st Hour Intro' Lesson

new pupil Introduction lesson
try it and see if you like it

once you have taken the Intro' offer you can -
" Pay as you go " -
60
, 90 or 120 minute lessons available
If you want to keep it simple just pay for
Each lesson as you take them
Buy a block of 10 Hours -
Buy this package after the Intro' lesson Above and
Get 10 lessons for the price of 9*
this works out at £36.00p per hour !
Buy a block of 20 Hours -
Buy this package after the Intro' lesson above and
Get 20 lessons for the price of 17*
that's a competitive £34.00p per hour !
Introduce a friend - get a Free Hour yourself
Once you are on the books, refer a friend and
Get a free lesson

for every pupil you Introduce
Who takes up training-

subject to availability **
More about Ardent driving school ?

Situated in Alton, Hampshire, UK. Ardent is a well established driving school providing tuition services to the local region and has taught hundreds of people to drive since 2004 and Helped them gain their driving licence .
For our working hours and A list of the services offered please click on our Services page (there is a Map showing our operating area) or click on the Prices page for current lesson fees.

click on one of the following Links where you can find guidance on the Theory and Practical tests, also Maintenance Questions & dash board lights and controls and the Pass Plus syllabus.
* Important Information regarding the "share your licence" check code required by the school prior to a first lesson can be found on the Licence Requirements page
Also other information such as licence information, Learner Insurance, health requirements, Test bookings and D.V.L.A advice and a lot more are on our Useful Links page.
Ardent strive to ensure all lessons are enjoyable but realistic to prepare the pupil not only for the test itself but also for independent driving post test pass,
so why not give Ardent a ring on 07526 051 186 And try that first lesson without obligation.
Notes -
* the above block bookings must be paid for in advance before discount hours can be given and must be used up within 6 months of purchase.
** the above "introduce a friend" offer - the introduced friend must attend 2 hours of tuition with the school before a discount can be given to the introducing pupil
all pupils must have the appropriate documentation to drive on the u.K. roads see the * licence requirements page for full details.
due to U.K. law we cannot use hand held devices when supervising learners to drive or driving a vehicle so if you ring 07526 051 186 and get the answer phone, please leave a message And we'll get back to you ASAP. or send a text. (please note we only respond to texts and calls between 8am to 6pm monday to friday)

all offers subject to availability.

please see T&C's for full details.
Please Note -

we only offer tuition in a manual geared vehicle.



copyright ardent driving school 2022